CALF Speaker Microphone Q5
Product description
Main chip: dual-core digital DSP
Bluetooth version: Bluetooth 4.2
Reverberation mode: Reverberation
Digital balance: erect equalizer
RF shielding: mobile phone/SMS interference
Head diameter: 14.0mm
Terminal type: capacitor
Sensitivity: -37dB
Frequency range: 20Hz~20kHz
Directivity: hypercardioid
Speaker power: 1×7W
Battery capacity: 2000mAh
Charging parameters: DC 5V 1A
Weight: 440 g
Peak impedance: 4Ω
Exclusive promotion: 
place an order now to receive 3-month membership! 
Please email your order number and screenshot of your order to CALF's official customer service account: support.global@changba.com and redeem a 3-month membership of our App Changba after confirmation.
About the product
[Perfect sound quality] CALF Bluetooth microphone combines microphone and speaker in a single device. The dual-speaker high-power amplifier provides a shocking effect, a louder sound and a better bass. It also has a patented sonic anti-seismic structure to make human voice transparent without howling, enabling you to sing anytime, anywhere.


[Beautify your voice] The CALF speaker microphone uses a custom DSP chip to polish your voice. Based on big data of 500 million users, it can achieve multi-dimensional vocal mixing. In addition, this customized built-in sound processing DSP allows the CALF speaker microphone G2 to improve its noise reduction performance effectively, thus enhance user experience.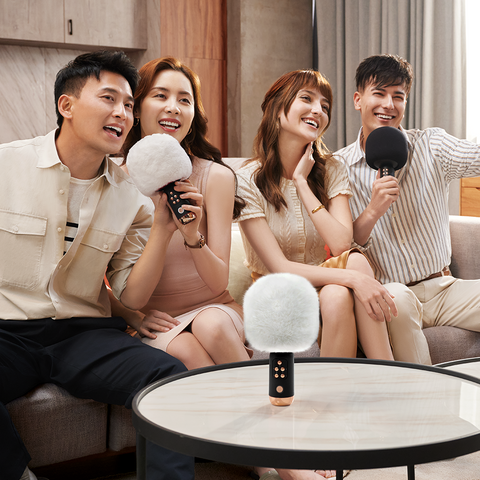 [8 kinds of sound effects, everyone likes them] CALF speaker microphone G2 has 8 types of sound effects, including the original sound, love song, rock and roll, folk song, host, super reverb, monster and the Minions. You can choose different sound effects according to the music or your preferences, especially the Minions one and the monster one: they are so engaging and funny, kids love them!
[Dual Mode, Double Fun] Using the dual mode, you can pair two microphones to the same account so that people at the party can sing together.


[Family entertainment] Projecting to TV screen through WIFI, you can turn your living room into a KTV in seconds. It's also an ideal gift for Christmas, celebrations and parties.


[High compatibility] Compatible with all devices that support Bluetooth. Both Android and IOS phones can be connected to CALF speaker microphones Q5.


[Package included] CALF speaker microphone Q5 x 1, charging cable x 1, audio cable x 1, user manual x 1;